SALE ALERT: Get proper coverage in your conference room
One Day Only, Get the Conference Room Phone You Need at the Price You Want!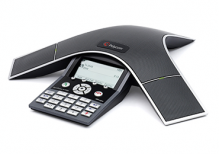 The family of Polycom SoundStation IP conference phones delivers unbeatable clarity and performance for any size room. Don't settle for a desk phone in your conference room, only conference phones can deliver the audio performance and 360° microphone pickup required for efficient and productive conference calls. Save BIG at our one day sale:
Polycom Soundstation IP7000 PoE (MSRP $1,339) only $728!
Polycom Soundstation IP6000 PoE (MSRP $929) only $499!
Polycom Soundstation IP5000 PoE (MSRP $599) only $324!
Call Chromis Today at 602.357.8070! All orders must be placed for shipping by 5pm EST on September 10th, 2013. This offer cannot be combined with any other offer or special pricing.