This Sounds Bad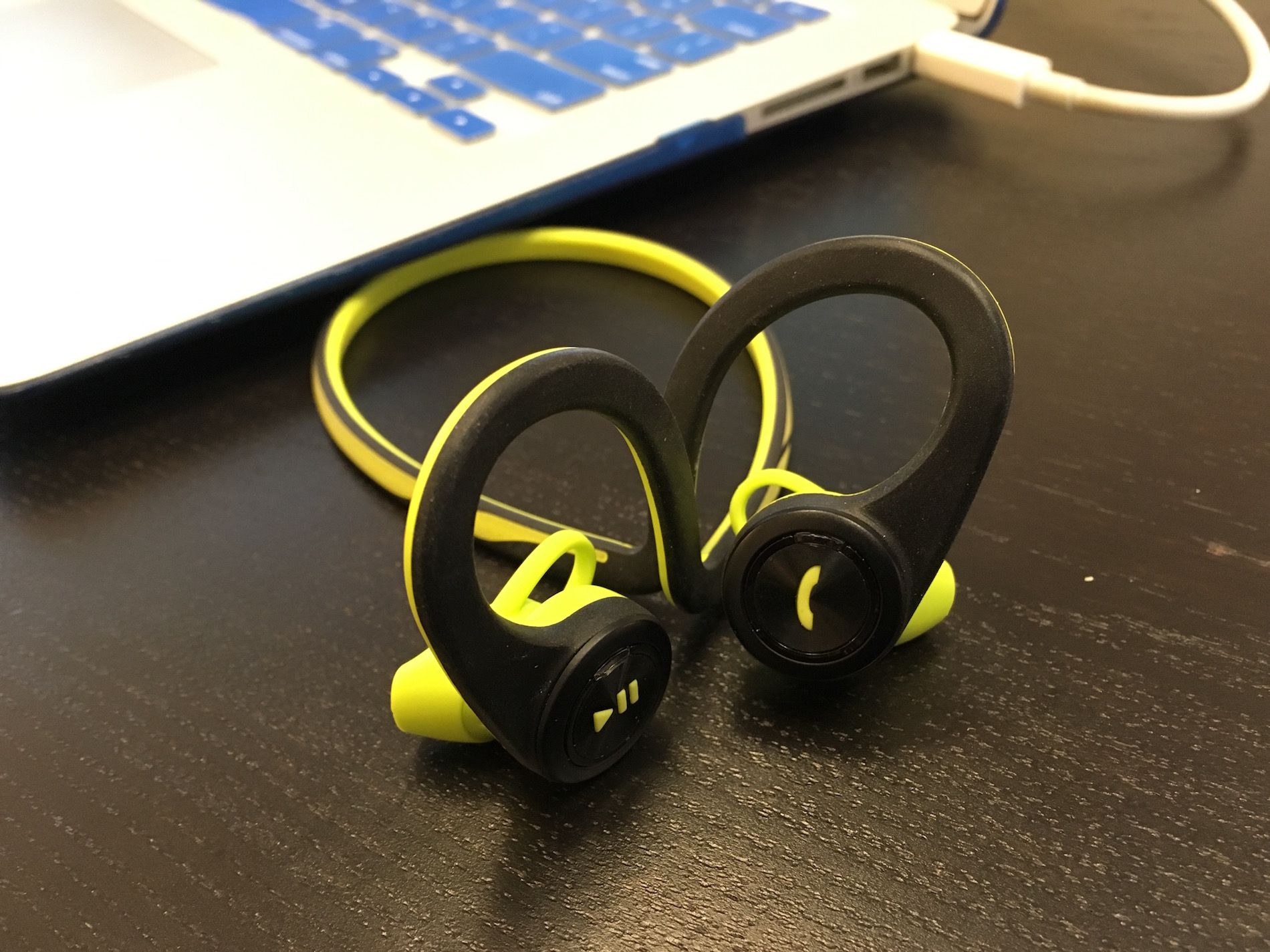 Apple removed the headphone jack from the latest iPhone... Oh no! Say it isn't so! I only care a little bit about this news. I do really enjoy a wired connection. Call me old fashioned but I prefer Ethernet copper over wireless. Wired headphones to Bluetooth versions. If I'm going to listen to music in my fancy automobile I plug into the USB port. I just know that it's going to work flawlessly and I won't spend time monkeying with a wireless connection. I know that when I upgrade to the new iPhone I'll be spending a few bucks on the adapter to plug in my antiquated wired headphones...
But wait! I have a fancy Bluetooth set sitting on my desk! Score! No need to worry about that silly adapter... And don't get me started on Apple's new wireless earbuds... (Insert Eye Roll)
The only problem is that the "fancy headphones" on my desk are a piece of crap. I'm just going to say it: The Plantronics Backbeat Fit Bluetooth headphones are the worst piece of electronics I've ever owned. Here's why I want to throw them in the garbage:
These were a gift from a distributor at a trade show. (I'm glad I didn't pay money for them or this writeup would be way more harsh. They retail for $129 American dollars. That's almost $170 Canadian dollars!) The disty represents a few of the headset brands in telecom, one of them is Plantronics. We were in Las Vegas and I was invited to dinner with my distributor rep and the Plantronics rep. Two people with expense accounts. I got to pick the restaurant and I knew I wasn't buying. As a guy who's really into food (that's an understatement) I like to get to choose where I eat. They're both from Ohio so what would I choose? People from Ohio eat Italian food, right? Who doesn't like Italian food? They loved the idea and we had a lovely meal at Wolfgang Puck's Trattoria del Lupo. (I had Pappardelle bolognese. I'm a sucker for bolognese. Here's the Instagram picture if you're at all interested. Follow me if you like food pix.)
Anyway back to the story... It was suggested that I grab the pair of Bluetooth headphones the next day from the booth. I was excited. I hadn't ever owned any decent Bluetooth devices before. I had a Jabra earpiece that I used for a while several years ago and I didn't have much luck with it. Call quality was not good so I stopped using it pretty quickly. The best Bluetooth device I've ever owned up to this point was my Mercedes-Benz. And even that wasn't very good. (Ask me about the day that I brought it home and it wound up getting sent back to the dealer on a flatbed.) So yeah I have a little bit of a bad taste in my mouth concerning Bluetooth devices.
But I had heard good things about the Backbeat Fit. Everyone who saw me carrying them around at the tradeshow was jealous of such a nice pair of headphones. I thought to myself, these are going to motivate me to workout more often and better. With the freedom of no wires I can workout harder!
This was not the case. The reality was that they were a pain in the ass to pair and they barely ever worked without problems. I started training for a 5k race (which I still don't know why I signed up for, I swear it's because of these headphones) by running on the farm road behind my house with my new wireless headphones in my ears. I remember being so remarkably frustrated that they were cutting in and out that I couldn't even use them. (I did finish the race, notice the wired headphones.) So they sat on my desk untouched for several months. Every few months I'd plug them in and charge them up and try to use them. I had a different phone last time I used them so I needed to pair them up to my new device. (iPhone SE)
After leaving them to charge overnight, I went to pair them up this morning. Nothing. They won't power on. Searched the internet and it's apparently a problem with this model. And all you can do is replace them. I hate to put these things in a landfill but what else can I do?
A few months ago I forgot my earbuds before a long flight. The $20 Skullcandy set I bought in the airport are some of the best sounding headphones I've ever jammed in my ears. I know we're going to do a lot more miles together in the air and on the pavement... And when the time comes for me to upgrade to the iPhone 7 (I mean come on, have you seen the camera specs?) I don't mind spending a few bucks on that adapter. I know they're just going to work and it'll sound great.